What is the next step for bridal shops and how do you take your sales approach to the next step? We look to the future to find the answers.
Text Anna Storm Photo Shutterstock.com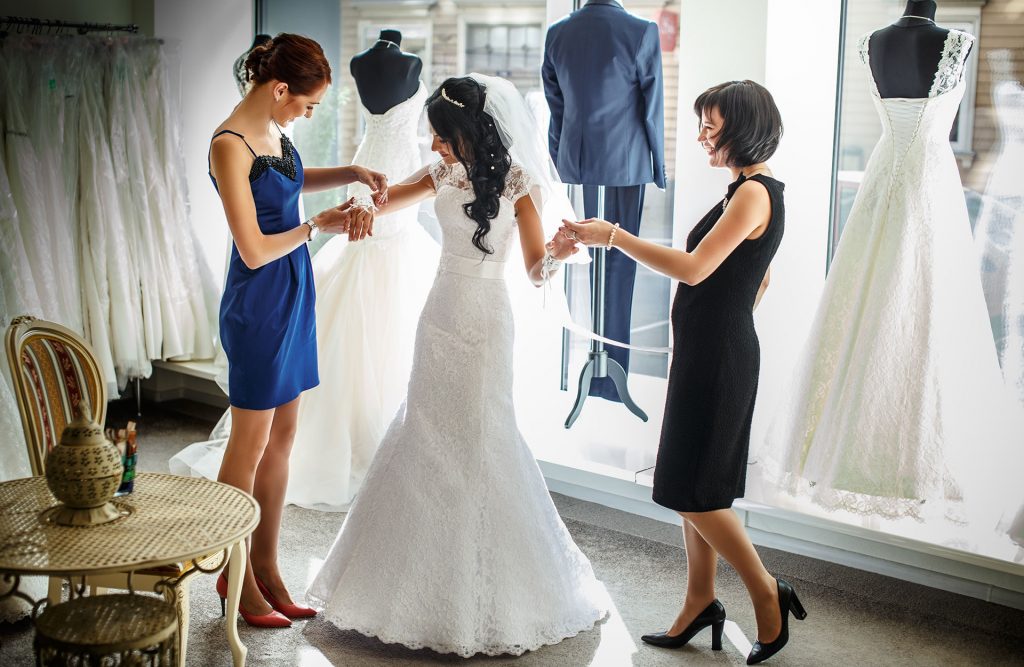 The future of the Bridal industry going into looks so different to that of the industry that we have been accustomed to for so many years. In many ways, thank goodness! Having learnt so much about our businesses, brides' tenacity in general, and having become professionals in strategy and survival, the industry and our businesses suddenly look a lot brighter, smarter, stronger and more strategically focused than ever before.
Things to Consider
What new things have you implemented over the last year that have worked well for you? Now is the time to consider what things add value to your business and the bridal experience going forward, and importantly what you are physically in a position to maintain – whether from a time, space or financial requirement.
Digital Meetings
Some of you may have excelled at digital video calls with your brides and bridal parties, whether it was for pre-qualification, pre-visit or to include the wider party during the appointment. When you consider each of these and relate them directly to your numbers, figure out which of these directly impacted and improved your sales results, your time to sale completion and/or the bridal experience? As we return to welcoming brides back in store and things become busier than ever, work out which of these drive results. What you can't afford to lose from your sales process, and what aspects will no longer add value to your offering going forward? You may find that a hybrid model will work for you, both in terms of time management and in ensuring best in-store results and conversion.
Social Media
We all know the importance of regular, engaging, and informative social media posts across all of the relevant platforms. Retailers and businesses in all sectors have become incredibly savvy in the last year at targeting and engaging directly with their customer online. Retailers in bridal and fashion, have really excelled and used the time effectively to present a sense of brand recognition, trust, and transparency with customers through engaging interactive posts. Those Reels, Stories, Tik Tok videos and creative content have kept potential new customers engaged and committed to choosing you as there first choice store when things re-open. However, content creation is time consuming and requires planning and management to ensure the quality and continuity remains intact going forward, especially if you are currently active across all the different platforms. Assess the analytics and judge what works best for you as a business from an engagement, appointment conversion and building brand awareness point of view. What are the areas that are not seeing a reaction from your core clients? Perhaps these are the areas to consider cutting so that as things get busier again you can continue to commit your time to only creating valuable content that has a real and positive impact on sales.
Team Training
Brides are now super savvy at online research in advance of their appointments and are following a lot more suppliers in detail online. It is important that your team has in-depth product knowledge training along with an understanding of your sales process and culture. Make sure they are also aware of your suppliers' online presence so that when brides refer to special options, advertised styles, or special shoots from one of your main lines, your team are able to relate, respond, and engage with knowledge and familiarity.
Selling in the newly evolved bridal industry is going to be something to celebrate, because not only are there going to be fantastic business opportunities with such a built up demand from brides, but we can all take a minute to celebrate love, family, and reunions with those closest to us.