We sit down with Justin Warshaw of Justin Alexander to discover the greatest changes he has seen in the bridal industry and how he keeps his latest design concepts fresh.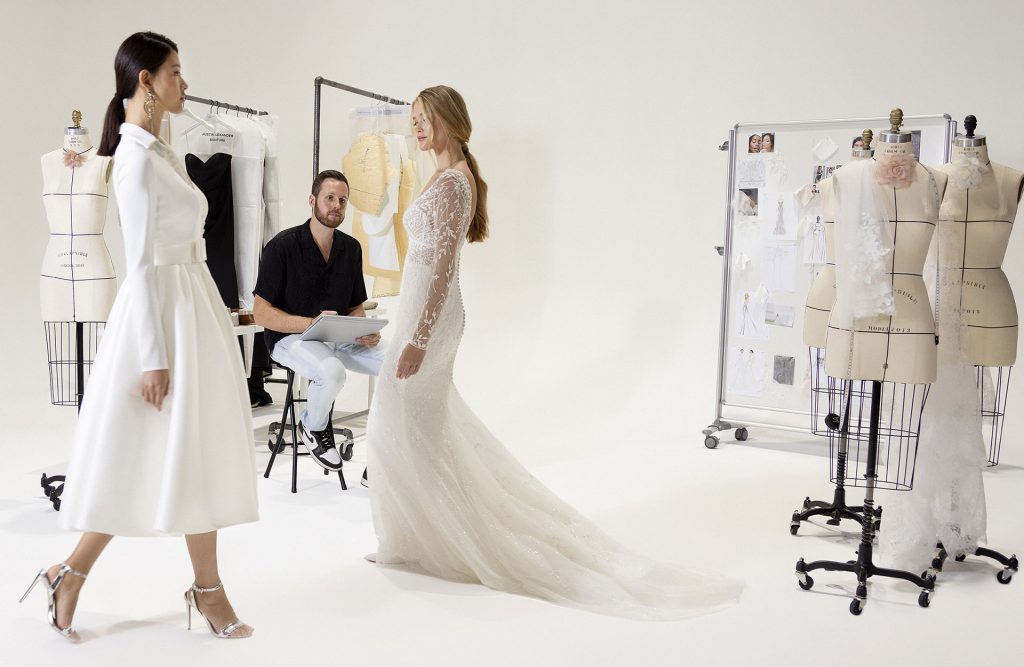 Tell us a little about the history behind Justin Alexander – why did you decide to enter the bridal industry?
My grandparents Ted and Sherley started this company. My grandmother Sherley was working for a bridal company creation. My grandfather, whom she had just met before the war, was working in communications for the army. They were in correspondence and had the idea to start a business together. She would send him a photograph with different messages on the back: it was really a romantic love story that they had together. They ended up starting a company together called T&G bridal. He was very charismatic and charming, and she was really the brains and the brawn, crafting a lot of the pieces herself in Brooklyn New York. That is how we got our start in the bridal industry and it obviously evolved in a big way over time. The second generation joined and took various roles in the business. One of them had this brilliant idea of turning the intention towards wedding dresses. That was a huge chapter in our history, when we turned our focus from accessories towards wedding dresses, and began manufacturing them in the early 80's.
I was really born into this business, having been the third generation of this company. I always had a taste for it and have always been interested, yet I have never studied fashion. I was always captivated by the business side since a very young age. I first started in marketing, got involved in the collection design and completely changed the way we did our photography. I learned a little bit about the taste, the trends, the fashion and what makes a bride feels beautiful on her wedding day. The balance of business and creativity are so important for our business, so I have to challenge myself to take time to focus on design and go to place of inspiration and creativity.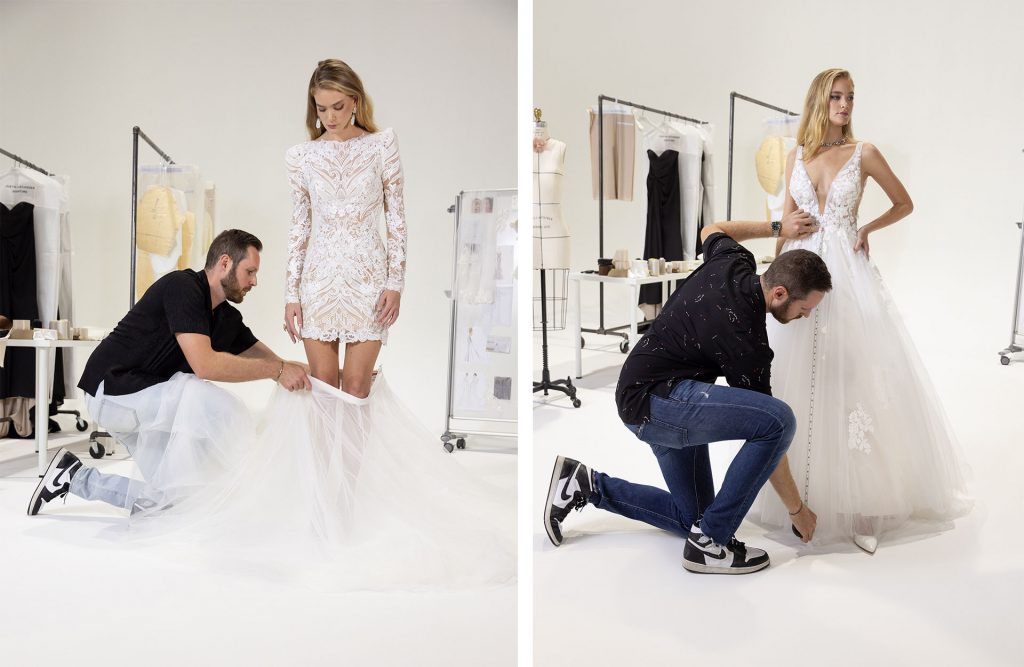 You've been in the bridal industry for years – what are the greatest changes you have seen in the industry since then?
There is a huge demand for on-trend and fashion-forward wedding gowns at an accessible price point. Many millennials do not want to be the princess bride look and want something more affordable, easy-to-wear and understated. These brides want their looks to feel carefree and effortless, and others are after the moment and want to feel glamorous and be the star of the show. Most importantly, they want to be able to express their own personality and sense of style with their bridalwear choices.
We also see a trend of not wearing just one dress for the big day but instead, having a dramatic look for the ceremony and then slipping into something a little more fluid or short in order to dance the night away at the afterparty.
As the bride's needs evolve, one of our greatest challenges is marketing to these young women from the moment they begin their research phase, and engaging with them in how they are inspired and influenced to shop for their dress. Both Millennials and Gen-Z greatly value the experience from online to offline, and Gen-Z in particular often will know exactly what they are looking for before they step foot into a bridal store.
That said, most brides-to-be have never tried on a bridal gown, and that is why it is so important for us to partner with boutiques with skilled stylists open to learning and adapting in how they cater to different generations. These youngest customers place a premium on the in-store experience and customisation options, and I'm proud that our team goes above and beyond in realizing every bride's dream dress.
Young people also care increasingly about where and how a product is made. Across our brands, sustainability continues to be a hot topic we discuss, research and implement to ensure we are doing our best to improve. Weddings have always been driven by tradition. They were typically a formal ceremony, often with religious context. The wedding dress made the occasion more festive, and gave the event more of an identity, which was determined by the bride and her family. The dress itself had many restrictions. It needed to be modest and in a traditional style, so they all looked similar. Nowadays, the wedding is becoming more informal, which is disappointing since it is such a special celebration and one of the few remaining ceremonies that brings the entire family together looking their finest. This progression translates to the gowns that brides select and the shopping experience that they seek. The level of formality varies across cultures and families.
It was not until the '70s that we really began to see a shift, and brides started to seek self-expression through their dress. The requirement to wear a traditional, modest bridal design is no longer required, and everything is possible and allowed. What's interesting is that despite all the daring and unique designs available today, the original, ivory tone dress is still highest in demand. Ivory was originally used due to its implications of luxury — it was more expensive to procure ivory or white fabrics and more difficult to keep clean. Although trends are always changing, I always recommend brides to select a timeless gown that they would proudly show friends, family and future generations in 30 or 40 years!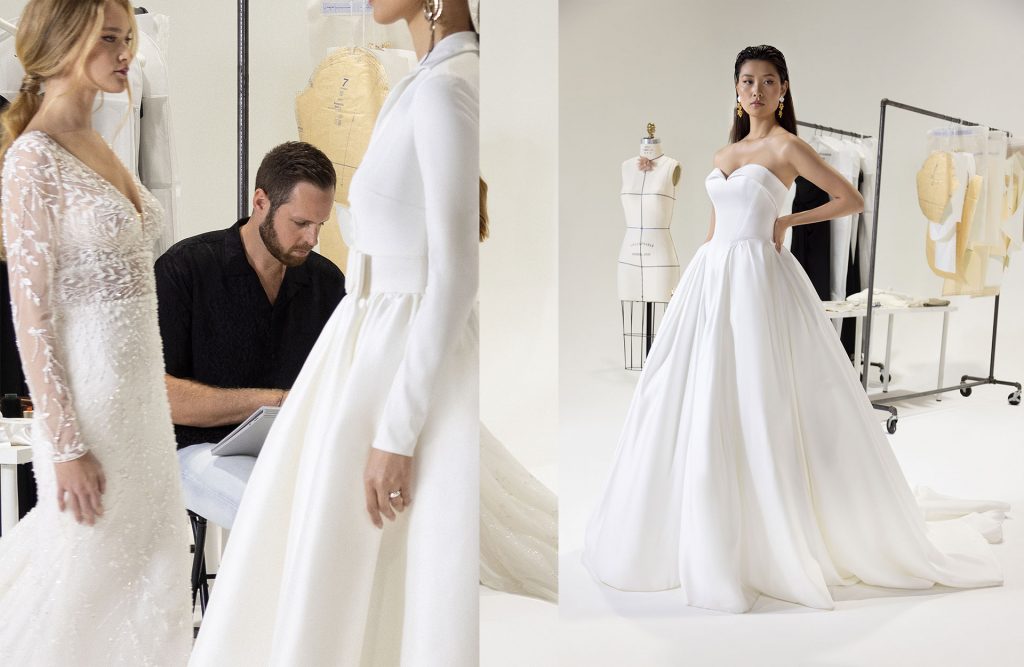 Who would you say has been your greatest influence?
My father established a leading market presence and distribution network in Europe. In mentoring me, he taught me how to respond to market needs, provide excellent service and maintain competitiveness. These lessons were key as I pursued my own ambitions: to expand our presence in America and abroad, while transforming the company into a marketing and design power.
I cannot help but feel so personally connected to the product, our brands and the retailers and brides we serve daily. I take pride in how we are the preferred bridal designer for consumers around the world by offering innovative designs with superior quality, strategic marketing at the cutting edge of technology and the highest level of customer service. The dedication to continue to grow in each area provides us with a challenge, yet I am excited to see what new success we will reach in the future.
What has been your greatest achievement so far (and your biggest challenge)?
It has been a challenging year; this is not deniable. The environment started to change dramatically, and we had to find ways to adapt to this environment. Together with the team, we came up with original ideas to serve our beloved partners and support them where needed. Trade shows were cancelled which was the biggest challenge of all time as it was quite limiting us in terms of sales and face-to-face contact with our retailers. However, I have to say that this pandemic has also brought some change for the good of the company and the team. The bridal industry is and has always been a traditional and less dynamic market which is quite in contrast with the needs of the new generation we are serving right now. Millennials' consumer behaviour is more dynamic and easily adaptable to change meaning that the thinking's, feelings, and actions of the brides-to-be and society at large are constantly changing.
The pandemic has pushed me and my team to think outside the box. From supply chain to marketing, we have all been brainstorming about opportunities to keep existing relationships strong but also find new ways to hold impeccable customer appeal. We found ourselves in a position where we are adapting to the environmental changes yet also in continuous strategic renewal which was more aligned with the needs and wishes of the end consumer.
We are an international company and serve on a global level. The differences in regulations from country to country made us think of different solutions. On one hand, we were trying to target brides who were willing to show off their adventures side on their big day after being locked inside. While Europe was still in lockdown. So, on the other hand, we were executing micro wedding shoots to inspire and encourage brides to celebrate their love in a more modest and toned-down look.
The same holds for the trade shows, we have delivered every single service we usually provide in a virtual way. From virtual trunk shows to virtual consultations and only collection presentations for our dearest retailers.
In short, to serve the two key groups of individuals driving our industry we kept their best interests at heart with every decision we made. I honestly believe that together we can find purpose through everything that is and will be happening.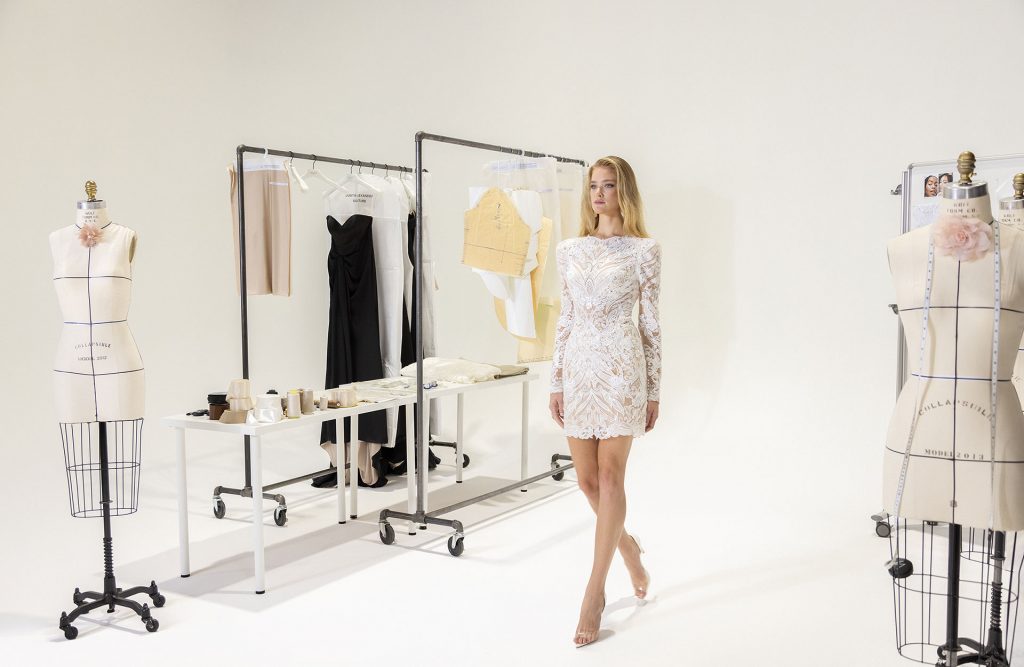 There's so much pressure for brands to come out with collections season after season – how do you keep them fresh?
The in-house design team and I are very hands-on and involved in many processes. We spent time understanding the bride, what she wants, and envisions herself in. Our diverse portfolio allows us to be appealing to many modern brides from all over the world.
As a team, we are constantly focusing on exploration, meaning that we focus on innovation and discovering the latest trends, basically bringing information from outside in. Our source of information is brides and the stylist working in the stores that are constantly in contact with brides.
The biggest challenge is what we do with the information and how we implement it into our design process. I am very lucky that the team and I are showing great teamwork and effort to keep every feedback and information at heart during the design process.
Also, I am thankful for my strong marketing team. Each person in the marketing department is responsible for bringing in ideas across all brands. We do not have an individual team that is only focusing on these concepts, but together with the team, we are simultaneously brainstorming about new concepts and how we can improve and make sure our current products are reaching the audience we want.
The marketing team mainly consists of women who are passionate about marriage, with all having different characters. We certainly exploit our in-house resources and get inspired by each other. This results in different campaigns focusing on different angles of female empowerment.