Text: Mari Kråkenes Loewen Photo: Pronovias
Pronovias Group is the world's leading bridal actor, present in over 90 countries. We present an exclusive interview with the director of Pronovias, Amandine Ohayon,who tells us about the company, the brands and how they operate.
– Which brands and labels are included in the Pronovias Group today?
– We have a unique selection of perfectly curated brands with their own identity, sense of purpose and price positioning to ensure we dress the dreams of all brides around the world, whatever their size, age, budget or style. We currently hold 6 brands in our portfolio: Vera Wang Bride, Pronovias, Nicole, House of St Patrick, WhiteOne and Ladybird. Thanks to the variety of our brands, we are confident that we have the right ones for the clientele of our retail partners, offering them the point of difference they need as well as the quality and styles their brides expect.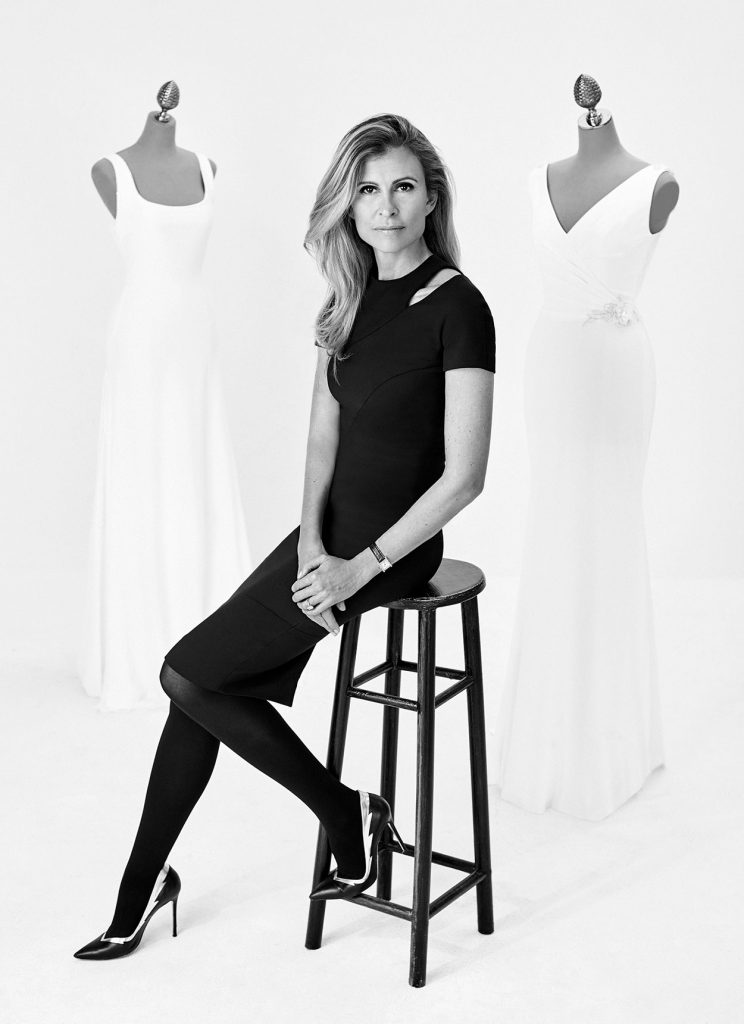 – Can you tell me briefly about new trends spotted in the new collections of each brand for 2023?
Vera Wang Bride: This first collection from Vera Wang Bride represents the designer´s unmistakable fashion language and philosophy—freedom, experimentation, individualism, and innovative proportions with a measured dose of fantasy -for the more fashion forward bride, tumbled skirts, engineered lace work 
Pronovias:  The new Pronovias collection is called JOY. his effervescent, vibrant collection encapsulates the glamour, femininity, and sensuality of Pronovias, and invites brides to share life, love and joy with
their friends and family. JOY presents modern, ultra-fashionable silhouettes inspired by the latest trends, incredible new fabrics and finishes, and of course innovative fashion details. But overall this collection is full of positive energy that will make brides burst with beauty and happiness.
Nicole: Nicole Milano 2023 has been inspired by Photography, the art that captures a significant moment for eternity. The dresses feature a subtle juxtaposition of light and shadow, harmonious proportions and technical effects that elevate traditions embroidery skills to new heights.
St. Patrick: For 2023, head designer Laura Giurgiu presents her most personal collection to date, 'A State of Grace.' It consolidates St. Patrick's three sub-brands into one and honors its formidable heritage with contemporary grace and quintessential elegance.
WhiteOne: For 2023, White One invites brides to put their best foot forward and Shine Bright! Capturing this celebratory and optimistic mood, the Shine Bright collection is designed for all women who are proud of their natural beauty, whatever their body shape. With sparkly and ­flirty designs, great fit and value for money, these dresses will make them feel one in a millions.
Ladybird: Modern and charming, minimalist and feminine, boho and lacey. Ladybird celebrates the diversity of today's bride with the new collection 'Modern Paradise'. Ladybird inspired its brand new 2023 collection on a modern paradise. Visionizing true female delicacy, which is translated into a trendy wide range collection at a great value.
– How will Pronovias Group brand these collections to the Nordic Market in 2023? (Both B2B and B2C).
– We have a strong Cross medial strategy, working together with relevant (Bridal) media. Our own websites are the most modern websites in the industry, brides spend a significant amount of time on the websites browsing for their dream dress. Via the website, they can also directly make an apointment with a retailer in their area, bringing more brides to the stores. We have a dedicated Marketing team in our North-Eastern European HUB, located in Huizen, the Netherlands. From there we are striving to have the shortest lines possible with media, retail partners and brides.
Regarding Social Media: All brands of the PG are very strong on social media. During 2022 we will increase collaborations with retail partner on Instagram, giving them more room for visibility. Also Pinterest remains a strong tool, which is also very relevant for the Nordic Market.
Another great way to reach brides are Trunkshows. Retailers can order additional dresses and make a special week/weekend event and give brides the opportunity to also try dresses which usually they would not have in stock. The Pronovias Group promotes these trunkshows on Facebook and our own website to assure visibility. Our marketing team of the Northern European HUB in the Netherlands is also always at your disposal for support.
– Is there any effect of the pandemic that the retailers should have in mind when placing orders of the new collections?
– Most importantly: LOVE IS NOT CANCELLED! Different surveys which were answered by thousands of brides-to-be in Northern Europe have shown, that almost none of the weddings from 2020/2021 had to be cancelled but they were pushed to a different date. Brides are looking for dresses and since celebrating their big day which family and friends might be even more special in the current time. According to wedding registrations, 2022 and 2023 are set to be record years globally.
Place your order based on your expertise and knowledge of the market and your brides, your agent will be a partner by your side to create your "personal collection" which will work in your store. Know that Pronovias Group is committed to being a retailer's #1 partner. Together, we embrace the wonderful opportunities that lay ahead of us.
– Tell us about Pronovias Group environmental engagement
– Environmental engagement is very important for the Pronovias Group. All brands of our portfolio offer WeDoEco dresses, which are dresses that are made of environmentally conscious fabrics and green supply chain. As a world wide leader in the bridal industry it is our task to set an example and help brides to be able to make sustainable choices on their wedding day.
– For brides getting married in a dress from one of your labels – what can she expect on her big day?
– Our core mission is to craft joy for our brides and our customers everywhere. We are united by a shared passion and motivation to make each and every women truly happy. A bride falling in love with one of our dresses, no matter which brand, for one of her most important days in her life, will look and feel beautiful and empowered. Dresses from our group are manufactured in highest quality and we assure a perfect fit. Our dresses are designed to enhance the unique character as well as body of every bride around the world so she can feel and look fabulous on her big day. 
– What are the benefits of working with Pronovias Group for a retailer?
– In recent months we have strengthened our digital channels, improved our E-Service platform and launched the "Pronovias Group Media Center" so our retail partners can download easily pictures and videos.
We have also created the most comprehensive and innovative training platform in Bridal, "Pronovias Group Learning", to offer continuous tutorial and training notes in 6 languages, from product to digital, to help you and your staff develop your business and make it stronger than ever.
And to go one step further, we are proud to welcome our retail partners to "The Pronovias Group Club", a unique benefit program to boost sales as we see weddings flourishing in different parts of the world.
Pronovias Group has also made some structural changes to be even closer to its retail partners and to provide a better service. For example, a new office with a variety of showrooms has been opened close to you in Huizen, the Netherlands. Close and uncomplicated contact with customers is a top priority for Pronovias Group. For your convenience, the customer service, sales and marketing teams are made up of experts who speak English as their mother tongue or at a high level.
The recent time have not been easy for any of us, but the bridal fashion industry and Pronovias Group have proven once again their resilience and customer interest. And that is what Pronovias Group stands for: to continuously be the best partner for the bridal fashion retailer and to make every single bride truly happy.
– If a retailer would like to make a re-order of current and new collections, how does it work?
– Thanks to our E-Service retailers have every moment of the day, 365 days a year access to daily updated stock information, bestseller overview, dress variation options, raw material order placement and so much more. In our E-Service many dresses can also be customized directly, such as sleeves, trains or different necklines. The retailer can consequently offer a customized dress directly to the bride at their store. We added function requested by our retail partners and upgraded to an even better user navigation and experience on desktop and mobile. Our E-Service platform is designed with our retailer in mind, to help them close a sale directly while the bride is still in store.
Every retailer has a dedicated agent who they can always reach out to and in a personal conversation the retailer can choose the best dresses for their store together with the agent.